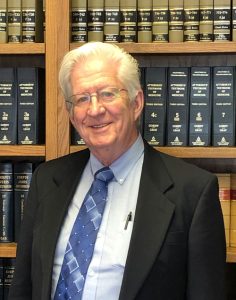 Kirk Wines graduated from the University of Washington Law School in 1968 and has practiced civil law ever since. Kirk is admitted to and has practiced in all levels of courts in the state court system, from municipal courts through the Washington State Supreme Court. Kirk is also admitted to practice in the federal courts in Washington and the U.S. Ninth Circuit Court of Appeals. Kirk is a Seattle native, currently residing on Queen Anne Hill where he maintains an office in his home.
Kirk spent 30 years as the City Attorney for Medina while also representing a private clientele. His practice has included personal injury law, family law, corporations, contract law, personnel law, real estate law and general litigation. He has represented cities, individuals and neighborhood associations on cell tower location matters. (see www.cellslayer.com).
Contact Kirk Wines at kirkwines@obrienlawfirm.net.